Featuring a premium multi-collagen (Type I,II,III,V,X)

Vitamin C, D3, K2(MK7), Chelated Zinc, MSM, 6 Digestive Enzymes, Hyaluronic Acid, Saw Palmetto.
Formulated to focus on nutrient absorption, synthesis, and bio-availability.
This dietary supplement for men and women comes in an easy and versatile daily unflavored powder. 30 servings.
With no fillers, preservatives and no added sugar it is easy to enjoy daily in flavored smoothies, yogurts, coffees, milks, juices, and more. 
Maximize the potential for Better Living  and promote or repair an active lifestyle.

Featuring:
Hydrolyzed multi-collagen (Type I,II,III,V,X from Bovine, Fish, Eggshell membrane, Natural Chicken)-  Support and repair: Hair, Skin, Nails, Joints, Muscles
Hyaluronic Acid - Skin and Joint pain and mobility support. 
Multiple Vitamins and Minerals for immunity and collagen synthesis.  Including Vitamin C, D3, K2, Chelated Zinc.
MSM - ( Methylsulfonylmethane) is an anti-inflammatory helps detox cells supports joints and more
Saw Palmetto - a natural botanical containing phytosterols (an anti-androgen).
Note: Anti-Androgens help promote prostate health and prevent hair loss and sagging skin. Great for Men and Women
6 Digestive Enzymes- Amaylase, Cellulase, Neutral Protease, Lactase, Bromelain, Papain. 
Digestive enzymes play a key roll in breaking down food and nutrients into a form that can be absorbed. As we age the pancreas produces less of these enzymes which can cause digestive health and possible nutrient intake issues. 
Download the FREE eBook here
查看完整详细信息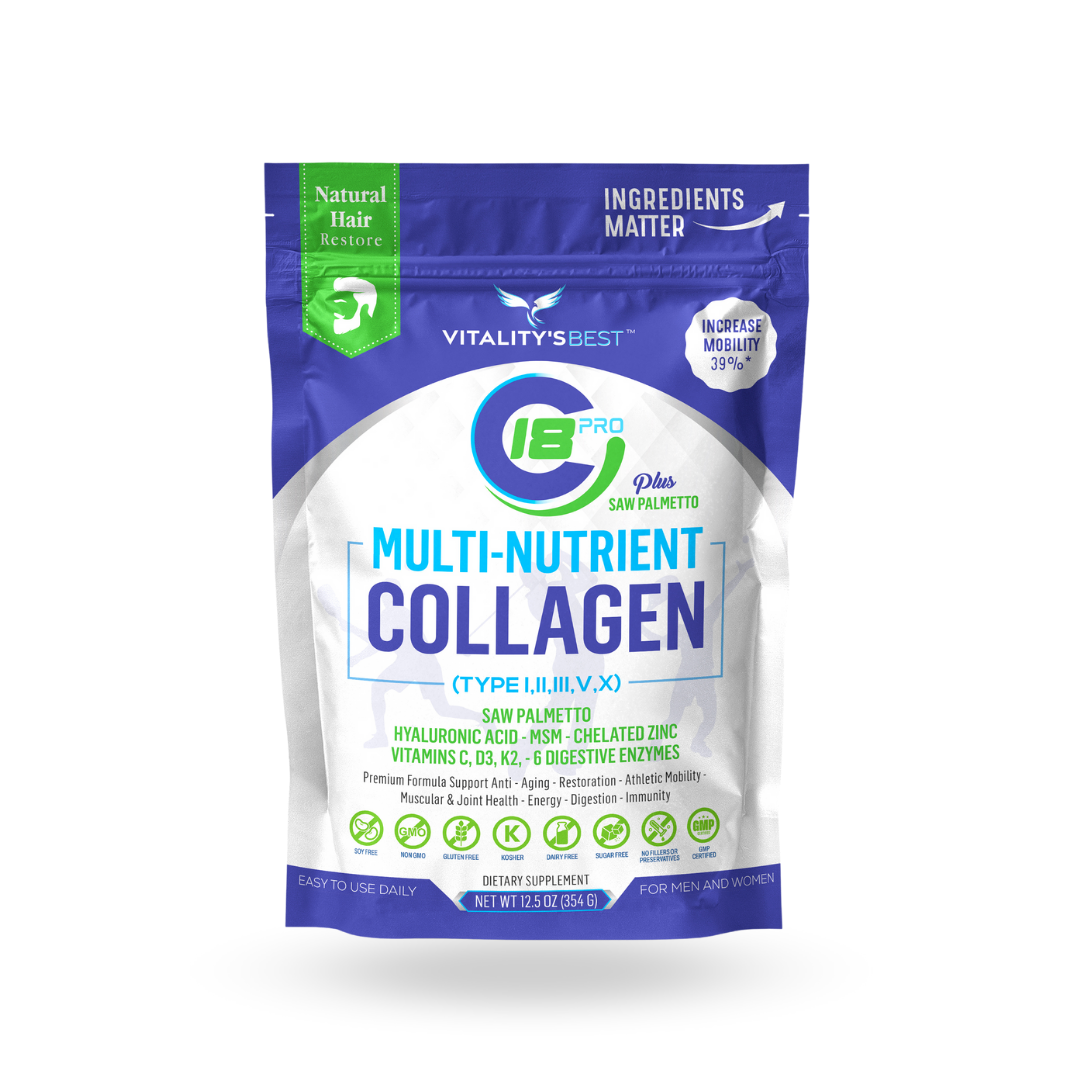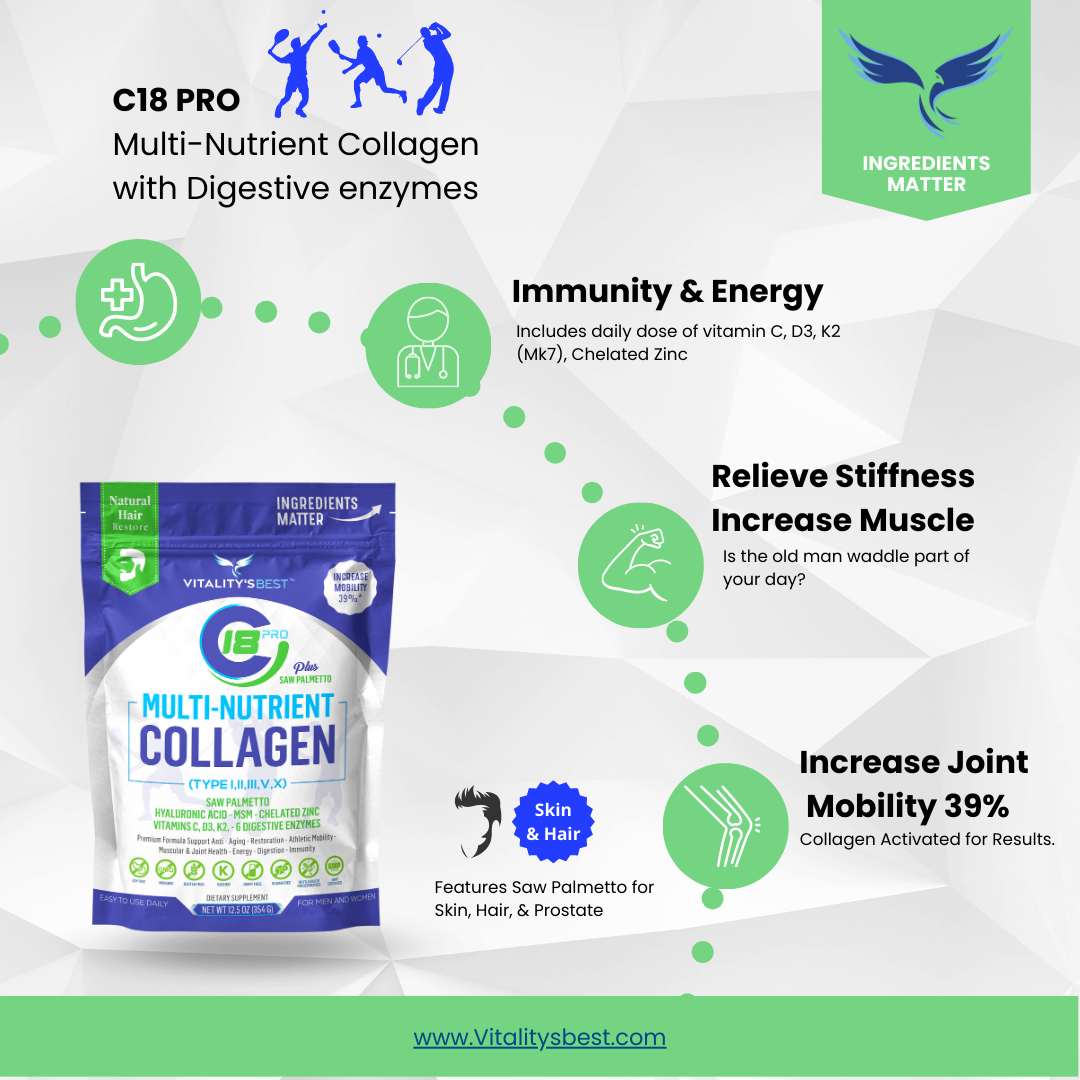 A Complete Multi-Nutritive for Better Living
Highlights

Vitality'sBest offers Multi-Nutritive Collagen supplements formulated with a powerhouse combination of 18 nutritives in an easy unflavored powder. Customize daily in your favorite flavored beverages and soft foods.
How to Use

Thouroughly mix the suggested serving size, of Collagen 18 or Teen18, into a favorite flavored beverage or soft food.

Please note our high quality collagen mixes faster then most collagens, but for best results mix with a frother or stir for 30- 60 seconds.
Recipe Ideas

Vitality'sBest Multi-Nutritives offer the fastest way to get a full rounded collection of restorative and preventative nutritives daily.

The best part is... it is naturally unflavored with no preservatives of fillers.

Make it your way and customize daily.

Add it to yogurts, oatmeals, jello, juices, coffees, milks, smoothies, protein shakes.

Or try this fun cacao spread.

Vitality's Best Cacao Spread for Fruit

1. Add the suggested serving amount of Collagen18 or Teen18 to a small mixing bowl.

(Jennifer often mixes in a pryrex glass measuring cup)

2. Add 1-2 tsp your favortive cacao powder. Based on taste preference.

3. Add 4-5 drops of warm water (approximately 1/8 to 1/4 teaspoon). You don't need much. Hyaluronic Acid asborbs 1000x its' weight in water.

4. Optional: Sweeten with 3 drops Monk Fruit liquid or favorite healthy sweetner.

(Jennifer uses NOW Foods, Real Food, Organic Monk Fruit, Liquid)

5. MIX Well and Enjoy.

Use Vitality'sBest Cacao spread on Apple slices, in yogurt or try it on English Muffin.
Ingredients

Hydrolyzed Multi-Collagen (Type I,II,III,V,X)

Hyaluronic Acid

Vitamin A (Exclusively C18 Pro)

Vitamin C

Vitamin D3 (Exclusively C18 Pro and C18 Pro Plus Saw Palmetto)

Vitamin K2 (Exclusively C18 Pro and C18 Pro Plus Saw Palmetto)

Chelated Zinc

MSM

Saw Palmetto (Exclusively C18 Pro Plus Saw Palmetto and C18 Pro Plus Prebiotic Fiber products)

Digestive Enzymes:

Amylase

Nuetral Protease

Bromelain

Lactase

Papain

Inulin - 90% Jerusalem Artichoke Prebiotic Fiber (Exclusively C18 Pro Plus Prebiotic Fiber)